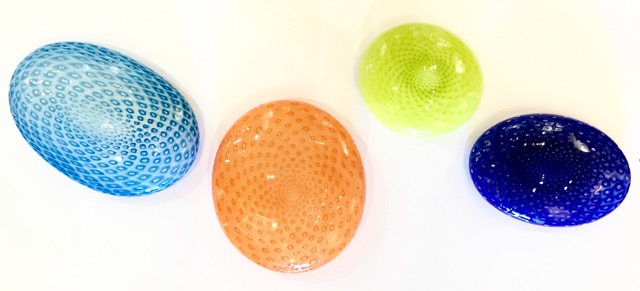 Glass making is a unique art form, requiring years of practice and a vivid imagination to create intricate glass works from molten glass, heated to 2500 degrees Fahrenheit in an oven the artist calls a "Glory Hole."
A Baltimore native, Tim McFadden found his love for glass blowing in 2001 while attending Salisbury University on Maryland's Eastern Shore. After graduation, he won a grant that would jumpstart his plan for a glass blowing studio. While continually refining his craft, Tim's work is built strongly on Italian techniques he has studied and developed at some of the most reputable glass schools in the United States, most notably the Corning Museum of Glass and Pilchuck Glass School.
Tim's process is highly intricate and varies according to the series he's creating at the moment.  It starts with a blob of molten glass that is swirled onto a blowpipe that has been previously heated to at least 1200 degrees Fahrenheit.  The blowpipe and molten glass is then inserted into the "Glory Hole" where the precise use of centrifugal force and gravity are employed with minimal spinning to allow the pieces to take shape.  The piece is then further shaped and cooled along a tabletop.  McFadden's "Glass Rock" series of random, bulbous, colored glass pieces is a good example of this technique.  They look like scattered stones floating across a wall (when hung on invisible hooks).
Often times, a piece is shaped and cooled in a wood block after being dipped in hot liquid glass for a second time.  McFadden's "Nesting" series is a good example of this technique.  It produces a very organic, flowing vessel.
Irrespective of the series, another variation is the application of "frits" (small pieces of colored glass).  Super hot glass is rolled over the frits then reheated in the Glory Hole to create a blend of color.  A finishing touch is the use of a torch to create a shine on the inside of the piece, which also helps to reduce the interior color.  
Fine art glass can add a truly modern, yet unexpected three-dimensional impact to any room or office decor.  As one of the leading contemporary art galleries in Chicago, the Art Post Gallery has a wide selection of 3-Dimensional art, including sculpture, ceramic forms, steel bowls and wood boxes.