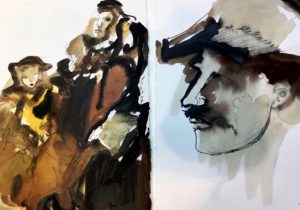 As one of the top Chicago contemporary art galleries, we are pleased to introduce Phil Saxon. Phil creates completely original, figurative mixed media paintings on paper and canvas that appear at once both contemporary and aged. Saxon's subjects and style, although individually unique, are strongly influenced by the early 20th century modernist artists, especially Picasso, Matisse, Nolde and Giacometti.
Believing that we experience a common range of emotions in life, Saxon attempts to convey these universal experiences in abstract terms through his complex, often mysterious figurative drawings. Phil's objective is to provide a personal response in the viewer's eye as well.
Upon viewing his work for the first time one might ask with curiosity: "Is this current 21st century modern art or is it antique 19th century art? Is it a male or female figure? What is this person's occupation? Is he wearing a hat or a helmet?" Saxon's work is intriguing and ambiguous, yet timeless!
Depending on what direction one decides to take with picture framing, his original drawings can be ultimately transformed into traditionally detailed or cutting edge sleek. Creative framing makes Phil's figures "pop," adding character and an element of surprise to any room. They can be made extra large and bold, framed as a subtle pair or even combined into a varied-size wall grouping.
Saxon works from his studio in Racine, Wisconsin. His work is held in private collections throughout the United States.
To view a selection of Saxon's original paintings and explore a wide range of fine framing options, visit one of the top Chicago art galleries, Art Post Gallery in Northbrook, Illinois.