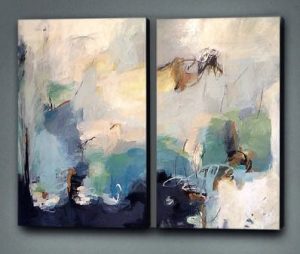 Art Post Gallery, one of the top Chicago art galleries, has discovered Carol Browning, an abstract expressionist artist from Denver. Carol earned her Bachelor of Fine Arts degree (with honors) from the University of Colorado. She spent 20 years as an interior designer, all the while keeping her passion for painting alive, until she made the decision to give painting her full attention.
In the artist's own words: "Painting is a vehicle for individual introspection, a form of thinking and organization of personal experiences. My work creates a visual language, intersecting thought with humanity, observation and events. My art is closely aligned with abstract expressionism and in particular the San Francisco School, which is deeply rooted in a response to the natural world. The expressionist style is as much a draw for me as the high voltage of creative energy that came from the cultural mood after World War II."
Carol's acrylic paintings are a series of large abstract works that delve into composition, juxtaposition of form and color. Standing in front of a Browning canvas, the spectator can feel the passion, purposeful brushwork and movement of paint and line across the artworks surface. Each piece begins with a chosen color pallet influenced by Western light. Layers of neutrals, washes and gestural marks are added until only hints of the original conception remains. It is akin to peering into the artist's soul.
Browning's most recent works are oversized organic abstracts often purposely created to hang side by side. "Questions and Answers" appear to have been inspired by ponds with grasses, water plants and Lilly pads, perhaps in a Botanical garden or similar natural setting. The fluid paint swatches and lines of aqua, black, rust and cream colors in this particular pair of paintings swim out of one canvas and slide effortlessly into the other. These expressive strokes of motion travel with a sense of balance, light movement and depth, creating a calm ephemeral ambience. The viewer can't help but feel these "zen" qualities.
To see more of Carol Browning's original paintings, please visit the Art Post Gallery, one of the Chicago art galleries specializing in large paintings.